From watersport activities and diving expeditions, to horse trail rides and sunset sailing, Magnetic Island has it all. Here are some of our favourite attractions: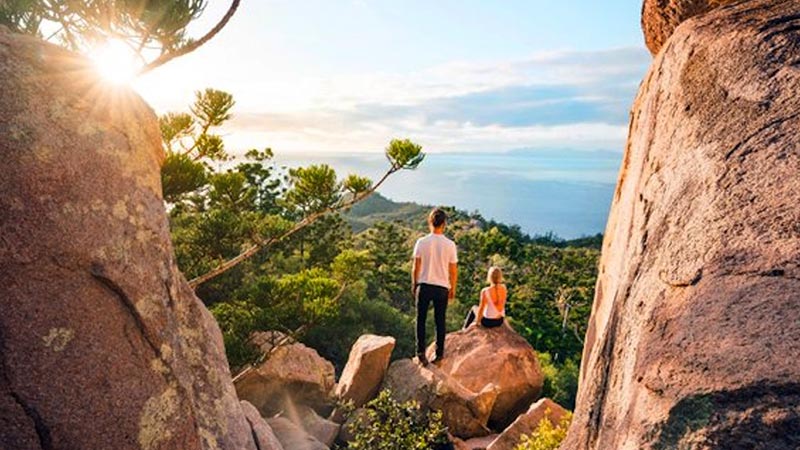 The Forts Walk
One of the most popular walking tracks on the island, the Forts Walk combines stunning ocean views and regular koala sightings with Magnetic Island's piece of WWII history. Starting at the top of Horseshoe Bay hill at the turn-off to Radical Bay, the track ascends above the northern bays before arriving at the ruins of the Forts complex operated during World War II, from 1943 until the end of the Pacific War in 1945. Learn about Magnetic Island's involvement in the Pacific War and take regular stops to enjoy breathtaking views and search for dozing koalas in the trees overhead. The 360-degree views from the top of the complex definitely makes the hike worth it!
Horseshoe Bay Ranch
Join the team at the Horseshoe Bay Ranch for a trail ride you've never experienced before. Your guides will take you on a journey through Australian bushland and along beautiful Horseshoe Bay Beach. Unsaddle your horse at the water's edge and experience riding bareback into the ocean. The horses are calm-natured, with your guides catering for first-time riders through to the more experienced. Two hour rides are available every day between 8:30am and 2:30pm.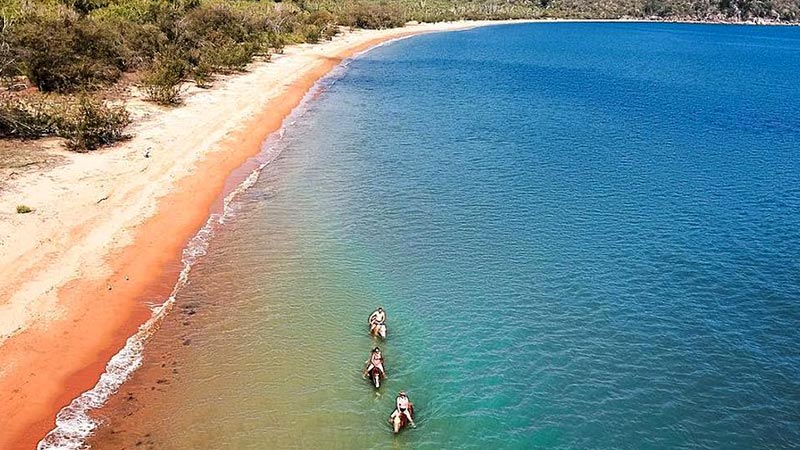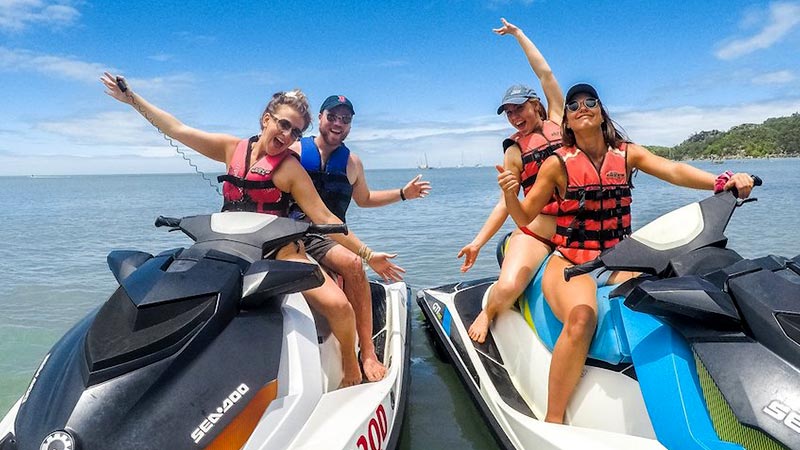 Watersport activities in the heart of Horseshoe Bay
Jump on a jet ski or a tube ride and get your adrenaline pumping in the safety and beauty of Horseshoe Bay. Jet Ski Hire Magnetic Island and Horseshoe Bay Watersports are the guys to speak to and they will make sure you have a fun day on the water. For a bit more of a laid-back water experience, hire a paddleboard or kayak to take the leisurely route around the bay.
Magnetic Jet Ski Tours
Cruise the island coastline and experience Maggie's rugged beauty on board a jet ski. Established in 1996, Magnetic Jet was Australia's first ever self-drive tour company. Experience the incredible rock formations, epic scenery and witness amazing wildlife encounters, including whales during the winter months. Local guides will provide you with local knowledge and secrets. Tours run daily, weather permitting.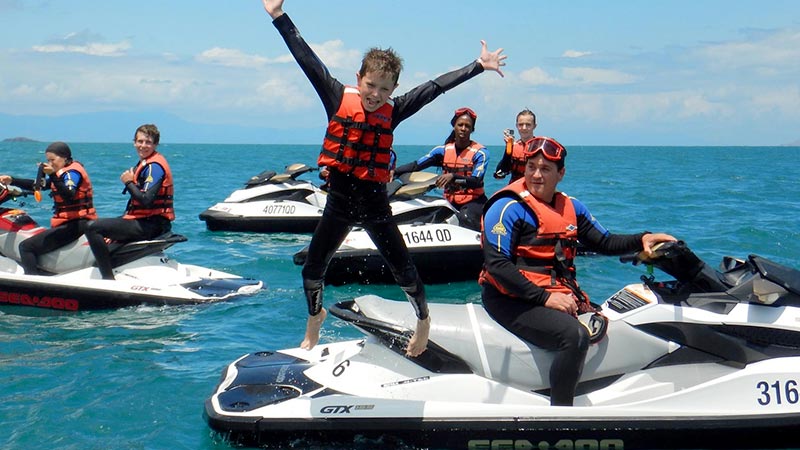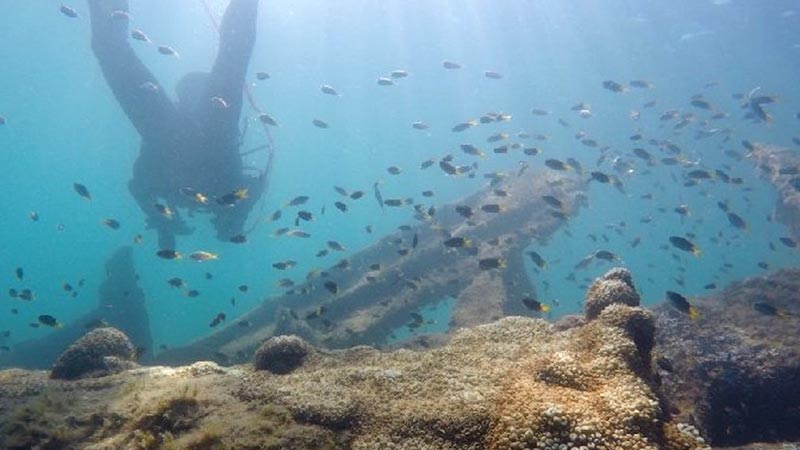 Indulge in an underwater adventure with Pleasure Divers
Snorkel the fringing reefs around Magnetic Island's most popular beaches or discover the island shipwreck trails. Pleasure Divers in Arcadia offer a range of hire equipment including snorkel sets and scuba gear for a day in the water. They also conduct a variety of dive courses and guided tours from beginner to advanced level. Stop by the office on Marine Parade and say hello, the team are always happy to have a chat!
Delve into the island's fascinating history at the Magnetic Island History and Craft Centre and Magnetic Museum
Sitting in the old school house at Picnic Bay, you will find the Magnetic Museum and Craft Centre. In 1996 the Magnetic Island History and Craft Centre began collecting documents and artefacts to preserve the heritage of Magnetic Island. Learn about the first European settlers to call the island home and their contribution to making the island what it is today. View a wonderful collection of old photographs and artefacts documenting our history and milestone events or purchase a great locally made gift. Magnetic Island History and Craft centre is open daily from 10am to 2pm (closed Tuesday).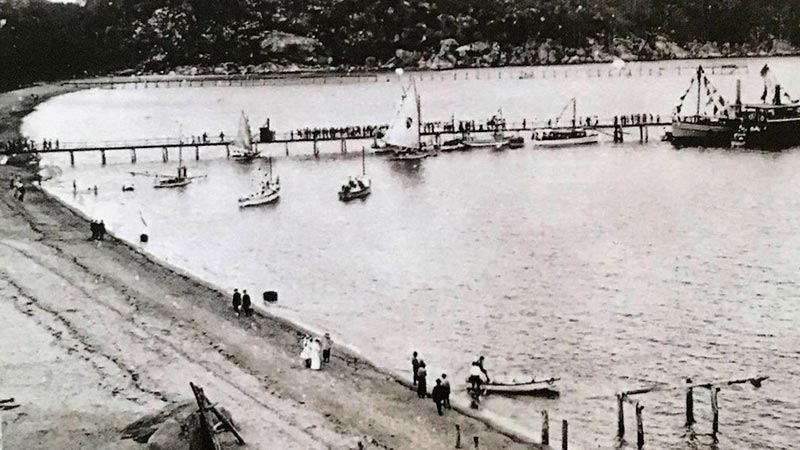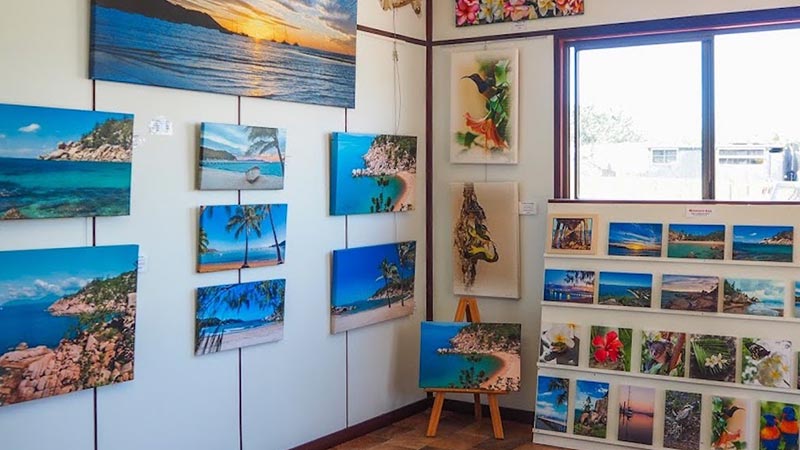 Visit some local art galleries
Magnetic Island is home to a number of talented individuals who love to showcase their art. From galleries in their own homes and communal spaces to art gallery restaurants, you can view the local art and creativity almost anywhere. Visit the renowned Peter Lawson's fine art gallery on Marine Parade in Arcadia, or enjoy a beverage and meal amongst the artwork at Barefoot Art Food Wine in Horseshoe Bay. MI Artspace in Nelly Bay combines local island art and photography with a range of creative gifts crafted on the island to form the complete island art experience.
Have "yachts" of fun sailing around Magnetic Island for the day
Discover the island whilst kicking back and relaxing onboard a sailing yacht. Paul and Clare from Pilgrim Sailing create the perfect sailing experience onboard their luxurious and custom built 58-foot yacht. Jump on board for a Sip and Sail Sunset Cruise around Cleveland Bay or a Lunchtime Day Cruise to one of Magnetic Island's pristine beaches. Enjoy Australian Organic wines or premium beers, as well as some beautiful local produce during your sail. Tours operate from early April to mid-October and depart from Magnetic Island Marina. Bookings are essential.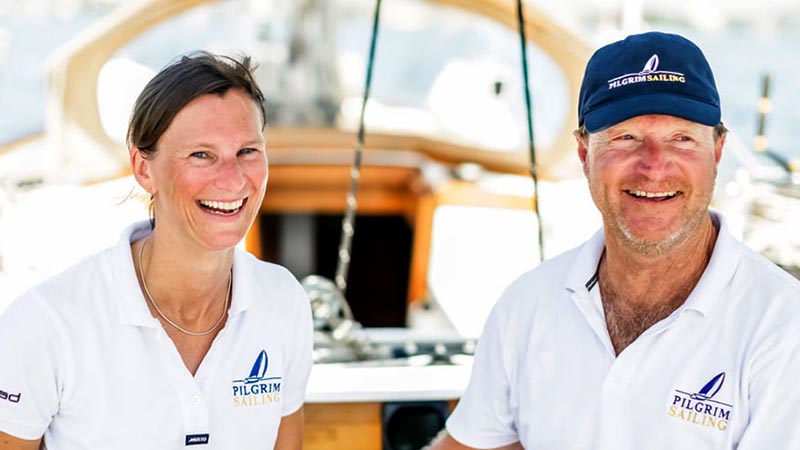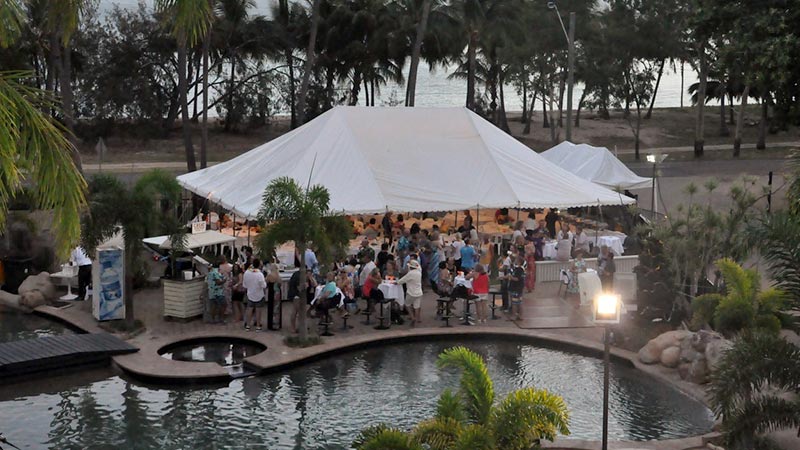 Place your bets on the weekly Cane Toad Races at Hotel Arcadia
For more than 20 years the crew at Arcadia Hotel have entertained visitors with Magnetic Island's famous Cane Toad Races. Starting at 8pm every Wednesday night, place your bets and outbid your competitors for this fun family entertainment, with all proceeds going to the Arcadian Surf Life Saving Club.
Enjoy a fun and musical night out at Stage Door Theatre Restaurant
It's the Greatest Little Show on Earth! Join professional singer and entertainer Bernadette Smith alongside the renowned "Boy from Oz" Kevin Wright for a fun-filled night of live singing, hilarious comedy and tongue in cheek impersonations. Performing to packed audiences on Friday and Saturday nights all year round since 2005, Stage Door Theatre Restaurant prides itself on wonderful service and delivering a night that has it all, with all original shows written exclusively for Bernadette and Kevin by Geoffrey Knight. Throw in a delicious three course meal, great service and a fully stocked bar and you have The Best night out in North Queensland…if not the world! It's a slice of Vegas in the tropics!